CONVENIENT LOCATIONS!
Portsmouth Location
55 miles from Boston's
Logan Airport
Just 48 miles from the
Manchester NH. Airport
Our
Manchester location
2 miles from the
Manchester NH Airport
Only 46 miles from
Boston's Logan Airport
Our
Nashua location
11 miles from the
Manchester N.H. Airport
Only 38 miles from
Boston's Logan Airport

Lebanon & Hanover New Hampshire
Licensed Court Reporters
Court Reporters | Realtime | Videographers | CART


ZOOM Internet Videoconferencing

|

ELMO Videos
As the COVID-19 (Coronavirus) situation evolves daily, we continue to take every
measure possible to protect the well-being of our reporters, clients and witnesses.
We are working to ensure we will continue to meet our clients' needs by utilizing:
We are monitoring the situation daily and will adhere to recommendations from
WHO, CDC and our local health organizations and government officials.

Your emails and calls will be responded to in a timely manner as we continue
to conduct our business. Do not hesitate to reach out if we can be of
assistance or if you have any questions.
Conference Room Available

Citizen's Bank Building
20 West Park Street
Lebanon, NH
$50 All Day!
Other Cities Served ۩: Claremont ● New London ● Newport ● Plymouth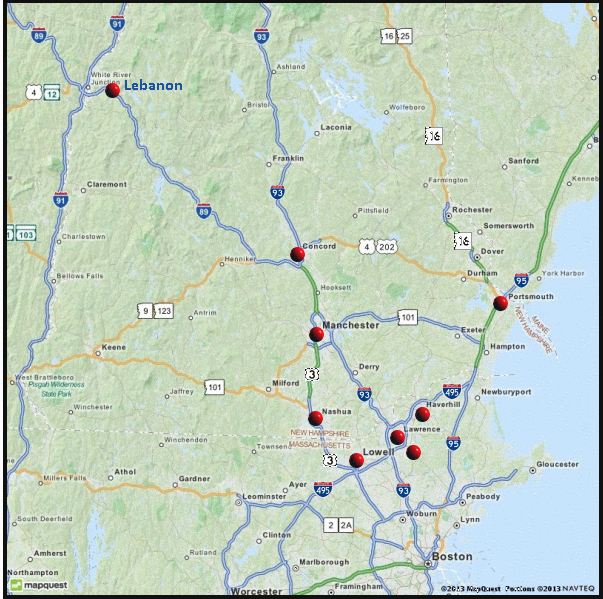 - Lebanon N.H. is CLOSE TO -
Dartmouth College, The Dartmouth Hitchcock Hospital & Killington Ski Area
---
Duffy & McKenna Court Reporters is
comprised of experienced professionals committed to
providing the best possible service to our clients.
---
NH Cities Served











Traveling?
Local Hotels
The Firesdie Inn & Suites
Lebanon, NH
Marriot Courtyard
Hanover Lebanon, NH
Hanover Inn - Dartmouth
Hanover, NH
Member of the National
Court Reporters Association,
promoting excellence among
those who capture and convert
the spoken word to text.